WELCOME TO BEARPONG
BEARPONG is Premium Oversized Beer Pong; The original Giant Beer Pong Game that looks and feels great, will last for years and can be played anywhere by anyone. Quite simply, BEARPONG is BIGGER-BETTER-PONG! It is the perfect tailgating game, beach game, poolside game or yard game. BEARPONG buckets and balls are solid and durable, yet light enough to pack in the included carrying case and travel with or to the party. The large buckets are heavier on the bottom and all stack up neatly into a compact portable unit. BEARPONG quality and looks are a thing of beauty! Treat yourself to the best oversized beer pong available and Pong Everywhere!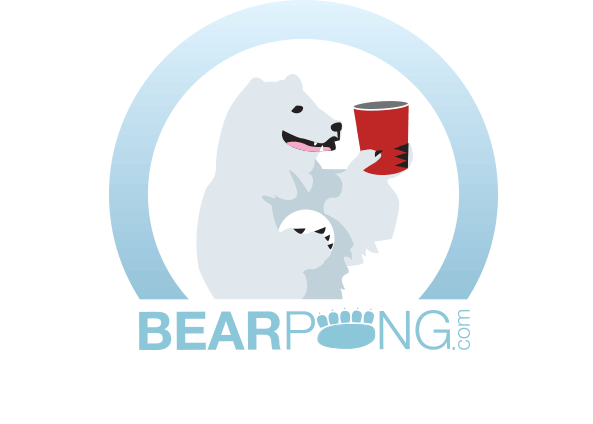 FREE SHIPPING! FREE SHIPPING!
On all Premium Oversized Beer Pong Game sets
WHY BEARPONG IS THE BEST OVER-SIZED BEER PONG GAME!
Click All 3 Reasons To Learn Why!!
1. QUALITY

BEARPONG quality is unmatched. We didn't just purchase existing construction or flimsy beach buckets in bulk and slap a name on them. Our specifically engineered gaming components were designed to be used together and provide real gaming value and enjoyment. Giant beer pong is easy to replicate but BEARPONG quality is impossible to imitate. There is a reason our oversized beer pong game is played in hundreds of business establishments across the country and world. Don't skimp on your game, your friends and family will never forgive you!

2. ENTERTAINMENT

Easily play Giant Beer Pong anywhere. BEARPONG solves many of the typical beer pong problems of having to lug around a heavy table, sharing cups, constantly rinsing dirty balls, crushed pong balls and dealing with the general mess and atrocity of spilling good beer. Our Premium Oversized Beer Pong game is specifically designed to be portable and closely imitate partially filled cups and pong balls while also being more social and inclusive. With BEARPONG, Giant beer pong can be awesome and beautiful.

3. VALUE

BEARPONG gaming kits include everything you need to be the talk of the party or attract all the attention at your next Tailgate or beach outing. Everyone from little kids to grandparents can play our oversized pong game and we still get high praise from traditional beer pong players everywhere. BEARPONG offers two kinds of balls with our Deluxe kit and if you want a custom set of buckets, just upload your image when purchasing and we will print and apply the decals before shipment. Giant Beer Pong has never been so fun, so portable and so awesome. BEARPONG is BIGGER-BETTER-PONG!
BEAR CAVE BLOG
Stay up on thangs!
Testimonials
Read Why People Are Loving BEARPong!
"BEARPONG keeps our customers in the doors longer and really gets the crowd engaged. It is actually a great Bar game if you take a little air out of the balls."
"Our Tailgate is one of the most popular spots in the parking lot year after year. BEARPONG is a great family game!"
"If you want to entertain the kids for hours at the beach, BEARPONG is a great game which is easy for even our youngest."
"What a great simple game. We bought another set when our son took the first one to college. A great addition to any cookout or Tailgate…. Neighborhood tournaments in our driveway are enjoyed by all "